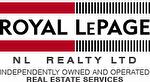 Royal LePage Newfoundland Realty
Penny Coley MacDonald
Broker Owner
144 Main St., Stephenville, NL A2N 1E0
Office: 709.643.4433 
Stephenville NL is a town in Newfoundland and Labrador, Canada on the west coast of the island of Newfoundland. The town functions as a local service centre for the southwestern part of the island, serving a direct population of 35,000 people from surrounding areas and over 100,000 people along the entire southwestern coast of the island.
Stephenville has a modern 40-bed hospital (built in 2003), schools, stores, movie theater, banks, and International Airport (Stephenville International Airport, CYJT), year -round ice-free seaport (Port Harmon), and government institutions. The provincial community college system, College of the North Atlantic, is headquartered in Stephenville and maintains a campus there for students from the southwestern region of the island. A provincial minimum-security jail is also located in the town.
This place was formerly known as the Acadian village, between 1848 and 1870. The populace of the village consisted of Roman Catholics who eked out a living, farming and fishing. The town's population continued to grow because of the stable economy. It was also formerly home to Ernest Harmon AFB, which was operated by the United States Army Air Forces and later the United States Air Force from 1941 to 1966. After the base was closed, the facility was turned over to the federal government which then provided it to the provincial government to diversify the local community.
The facility included the airfield, which has two runways (10,000 ft x 200 ft, 4,000 ft x 150 ft) and numerous buildings which are operated as the Stephenville International Airport.
Community Links